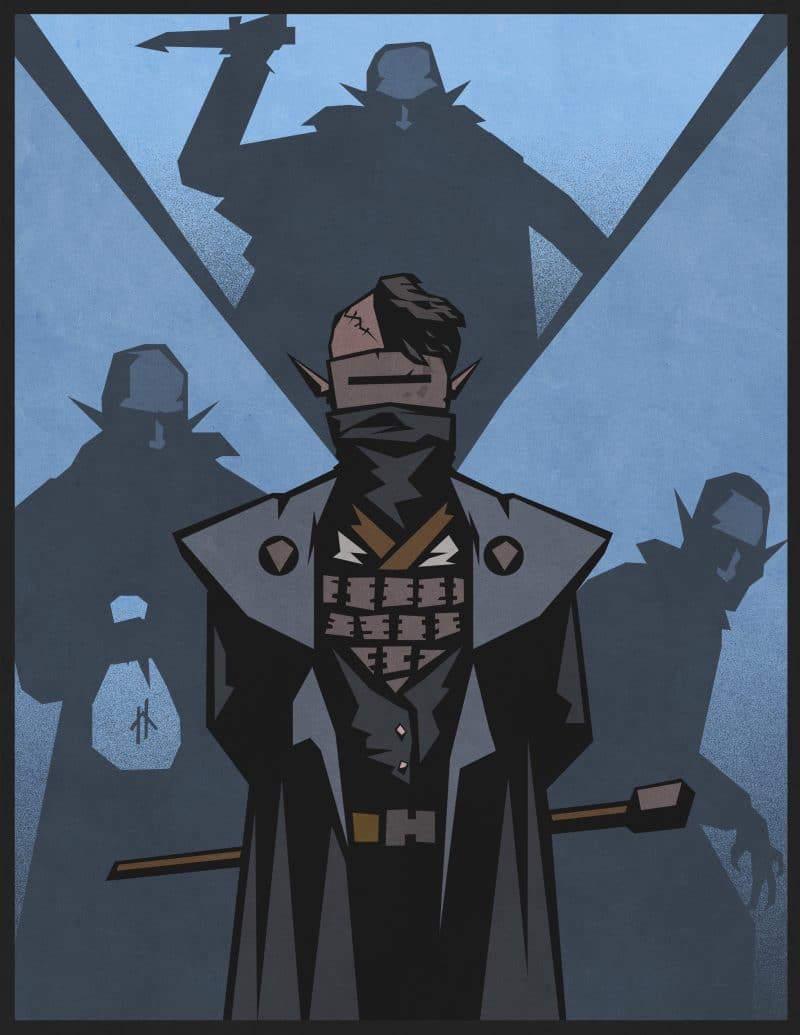 STRATA – Kickstarting in early October – will be the first hard-copy sourcebook for Spire, our game of fantasy-punk insurrection, and we're really excited to tell you about what's inside. Namely, a bunch of brilliant scenarios from nine different writers, and two new classes!
OUR WRITERS AND THEIR SCENARIOS
For the first time, we've brought in new writers – some seasoned RPG creators and some completely new voices – to play in the Spire universe..
We have five adventures, or campaign frames, included in the book at funding:
Christine Beard

(

Beast: the Primordial, Seventh Sea, Changeling the Dreaming 20th anniversary

) writes

Eye of the Beholder

,

where the cell attempt to rescue drow used as canvases for a cruel aelfir's surgical arts.

Pauline Chan

writes

Lines in the Dirt

,

which sees a downtrodden and under-funded cell in Derelictus get evicted from their tenement apartment block, and fight to keep it.

Chris Farnell

(

Dirty Work, Mark II, Legacy: Life Amongst the Ruins)

writes

Dark Harvest

, where the player cell are bundled off into a suspiciously idyllic community deep in the Garden district after a mission goes disastrously wrong.

Laurence Phillips

(

Primal Pathways

) writes

The Forgotten

, where disabled and marginalised drow are caught between the machinations of the ministry and the brutality of the aelfir after the untimely death of their protector.

Chris and Grant

, who you know, are writing

Better the Devil

which deals with the arrival of the powerful and damned drow lineage of Starys to Spire, and their attempts to take over the city.
We also have five scenarios lined up as stretch goals:
Helen Gould

(

Cthulhu Dark, Fear's Sharp Little Needles

) writes

Home is Where the Hatred Is

,

which is essentially

Downton Abbey

except all the staff are revolutionary drow and all the posh people are undead high elves.

Ben Brock

writes

Ironshrike

, in which the cell are tasked with killing a marketplace and also working out just what that entails.

Coman Fullard

writes

The Sulphurous Press

,

in which the cell are given control of a news-sheet and use it to spread revolution through the city.

Kira Magrann

(

A Cozy Den, Resistor, The Veil, The Sprawl, Dialect)

writes

Glasshelm

, in which a cadre of rebels attempts to destabilise Spire's banking system.

Xalavier Nelson

(

PC Gamer

, "

Screw You Bear Dad!

" and

MCV

rising star) writes

Bisquiet

, which focuses on the unique art of overthrowing the government via precise application of gourmet baked goods.
All of our unlocked stretch goals will be included in every copy of the book – there's no additional tier required to get them, and they won't be released as PDFs only.
TWO NEW CLASSES
As well as plenty of extra advances – additional ability sets that any character can use – we've produced something special: two brand new classes to flesh out your Spire games and give you new ways to affect the city.
The first is the Inksmith:
"Ever since humans brought the printing press to Spire, the ability to control and channel the zeitgeist has never been easier; you know the occult power of pulp fiction, channel the magic of sensationalist journalism, and wear narratives like a cloak. You ride the razor's edge between truth and fiction. As a writer, you're not bad; as a magician, you're top-notch."
They're pulp fiction con artists running a scam against reality, and they're always in search of a good story. They have spells such as: A MAN WITH A GUN, that summons someone holding a gun into the room they're currently standing in; STAR-CROSSED LOVERS, that makes two NPCs fall in love; and COMMON FEARS, which lets them access what a community's scared of and use it against them in their writing – or otherwise.
The second is the Shadow Agent; they've devoted their lives utterly to Our Hidden Mistress, drow goddess of grace and revenge. As they grow in power, in addition to canticles and prayers to their patron, they gain the ability to own and maintain more and more covers – false identities that they can slip into and out of as they please.
At first, they'll have a couple of tricks and a fake ID; at higher levels, they can animate their covers to act independently, summon choking shadows over the mouths of their enemies, or sacrifice their precious other selves on an altar to their goddess to gain her favour.
THE REST
So far, we've written about 40,000 words of setting information, supplemental rules, weapons, abilities, bonds and weirdnesses that you can find in the richest and poorest parts of Spire; as ever, we don't want to talk about what happened in the past, but instead about what might happen tomorrow. Spire is a changing, dangerous, exciting place, and we want to give you what you need to put your players right in the centre of it and let them try to take control.
That's it for now. If you'd like to stay up-to-date with the campaign, you can follow Grant on Kickstarter here,  follow our Twitter account here, and sign up to our mailing list here.
– Chris, Grant and Mary