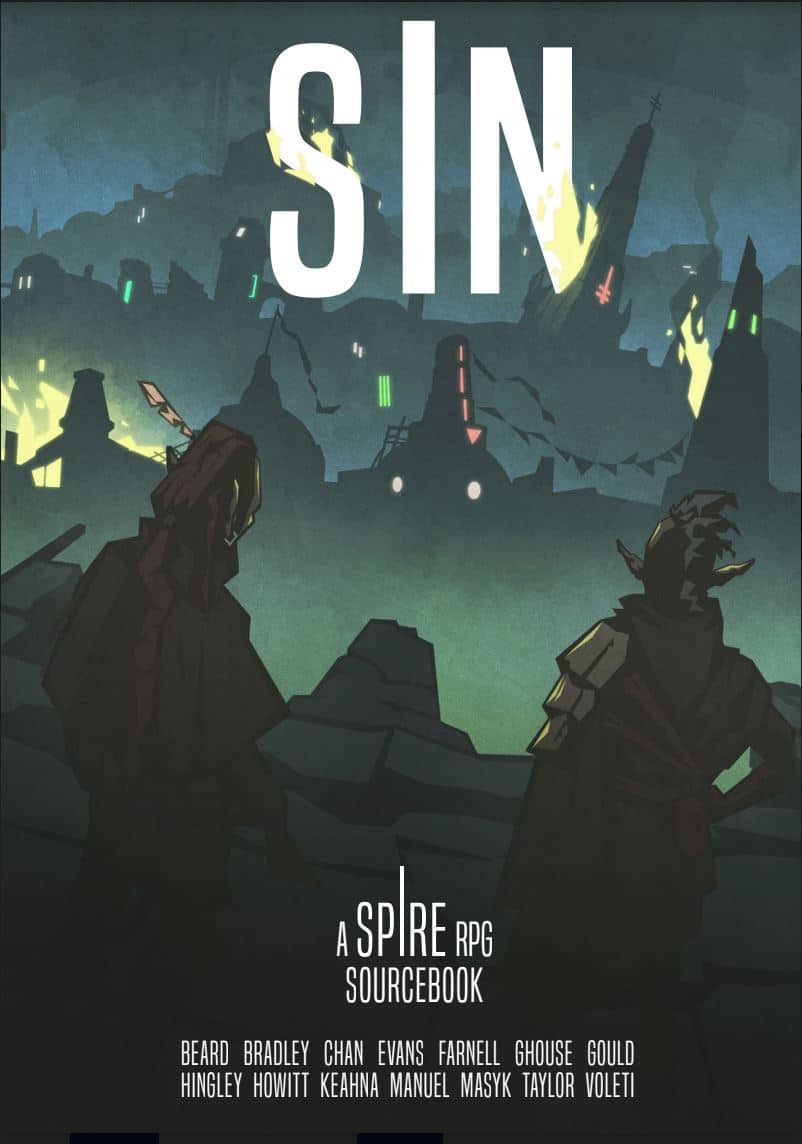 As of TODAY you can now purchase PDFs and pre-order physical copies of the Sin sourcebook, the Magister's Guide, the Conspiracy Kit and the Spire Quickstart from THIS VERY WEBSITE. This is obviously wonderful news. If you'd like to learn more about those things then READ ON:
SIN is the second full-length sourcebook for Spire: The City Must Fall. It includes two new character classes (the divine con-artist GUTTER CLERIC and the bureaucratic hangman MORTICIAN EXECUTIONER), three full-length scenarios and intensive details on the Religion, Crime and Order Scenarios. It's been written by us and a load of very talented people we hired and we think it's great.
THE MAGISTER'S GUIDE has supplemental rules systems, advice, and additional content for every single class in Spire, Strata and Sin. Grant spent ages on it and it has rules for CHEKOV'S GUN, which increases in damage the longer it is referenced but not fired.
THE CONSPIRACY KIT and GM SCREEN is everything you need to craft a web of intrigue and mystery around twelve different NPCs and then get your players to infiltrate the whole damn thing in service of the Goddess. Plus it has a GM screen in it! (It's nice.) We are happy to confirm that at least 50% of these NPCs are kissable. All NPCs (kissable or not) have been illustrated by the talented Rowan MacColl.
THE SPIRE QUICKSTART, rocketing out a scant four (five?) years after the release of the core system, contains a slimmed-down version of the rules, pregenerated characters and a cracking little scenario called SNUFF OUT THE SUN which is mainly about killing bishops. And it's pay-what-you-want in PDF, so you can't turn your nose up at that can you.
Right! That's that. Pre-ordered physical copies should be with you by April but you'll get the PDF immediately if you want to get started.