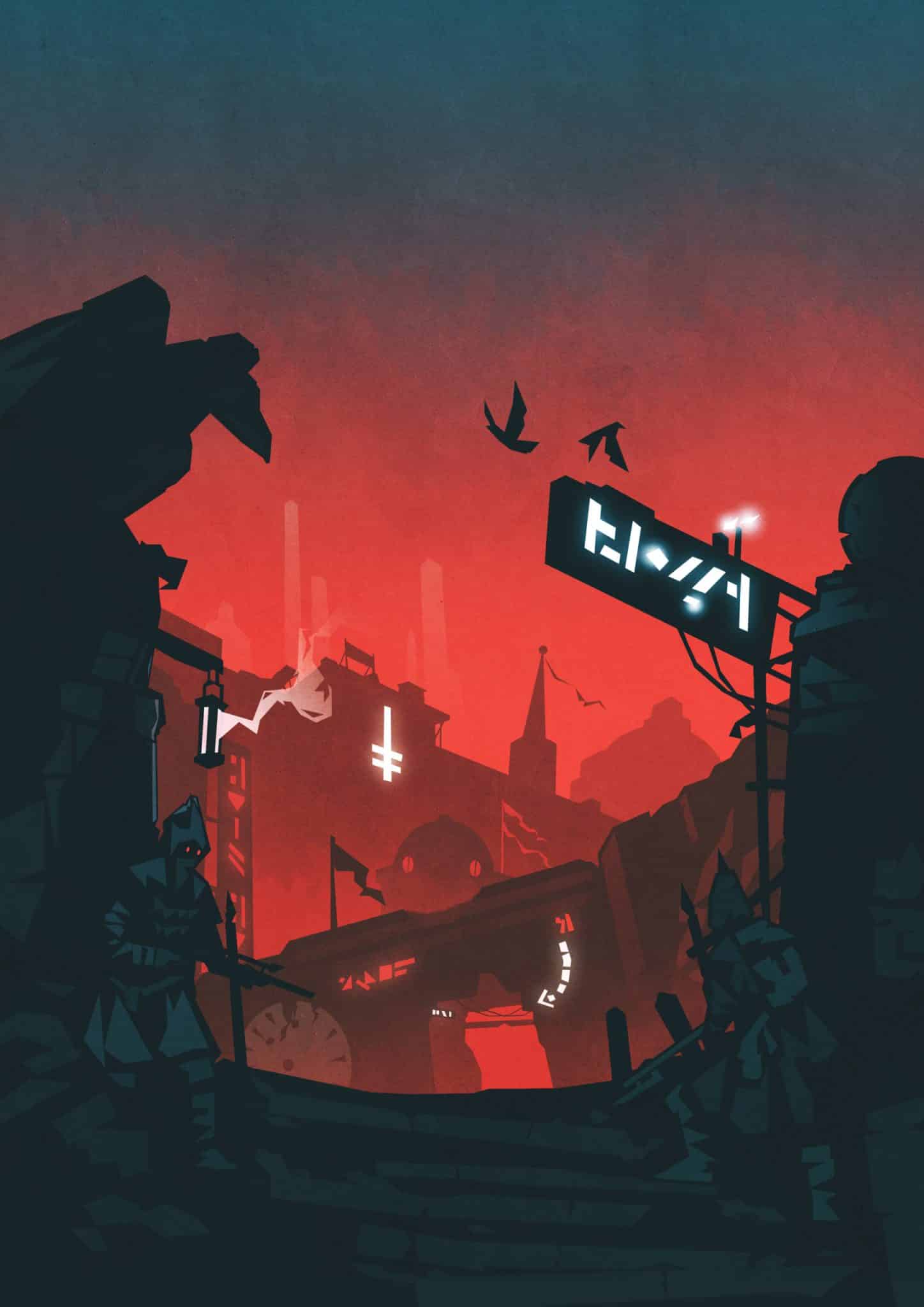 SHADOW OPERATIONS is an upcoming supplement for the Spire RPG which features eleven one-shot missions all designed to be as easy to run as possible written by a variety of authors.
WHAT ARE THOSE SCENARIOS?
LIFE AND SOUL by Grant Howitt: The legendary Red Row gangster Mr Winters is having an extravagant birthday party in his spacious mansion, which is a shame, because you're going to murder him for selling weapons to the cops.
THE LAST TRAIN by Nathan Blades: The Last Train is the only functioning train left on the cursed, infinitely fractal mass transit network of Spire. It can never stop, and you don't steer it – you pray to it. Now: steal whatever's powering it.
A SHOTGUN WEDDING by Christopher Taylor: Can you defend a wedding between Brother Hellion's only biological daughter and a renegade noble-blooded Knight of the North Docks? Bear in mind that it takes place at the Church of the Gun, so everyone is armed.
HOUSE OF LEAVING by Sharang Biswas: When a prominent researcher – and her research, and her office – go missing within the boundaries of the Infinite Library, the cell is dispatched to bring her back intact.
HOW TO STEAL A BODY by Pauline Chan: Simple enough: all you have to do is get a magically-radioactive corpse through the streets of New Heaven while both the blood-hungry Charnelites and the sanctimonious Morticians are trying to stop you doing it.
JAILBREAK by Basheer Ghouse: Liberating an infamous gnoll prisoner of war from the Hive would be hard enough, but once you make contact, it looks like he's in no hurry to leave.
THE MOON BENEATH by Jabari Weathers: A useful moon priest has defected to worshiping something strange and chthonic in the environs of the Heart. Pull her out of the darkness and bring her back to the light.
POWDERKEG by JP Bradley: Two rival houses of Knights are pitching the North Docks into turmoil. Can you squash the beef tonight before the police turn up and start shooting?
RIME AND REASON by Christine Beard: A renegade Warrior-Poet has been magically frozen in a block of ice; can you get him to a safe house so he can aid the revolution, even though he's rapidly defrosting and warping reality around him as he does it?
THESE FERAL SAINTS by Pam Punzalan: Drow Saints reincarnate when they die. One of them has shown up in the religious tinderbox that is Pilgrim's Walk: recruit her as an operative before the church of Our Glorious Lady or the sect of the Crimson Vigil execute or sacrifice her.
THE SHOW MUST GO ON by Jason Pitre: For one night only, a revolutionary desang play will be performed on the streets of Spire. The authorities want to stop it – and it's your job to run interference. Also, the play magically alters reality as it's performed, so best of luck.
WHY ONE-SHOTS?
I think there was a period of five days last year where, unprompted, three different people asked me which Spire adventures were best to adapt to one-shots. The best answer I could give was "Blood and Dust" but the honest answer was "none of them," because we tend to write adventures that take at least three sessions to play out. SHADOW OPERATIONS is an attempt to give people what they need to get Spire up and running as quickly as possible.
Each scenario is about 1,500 words long, and is broken down into the following elements:
Mission Parameters. An outline of the mission to give you (and your players) an understanding of what sort of events will take place. You can read this aloud to the players to set the scene.
Suggested classes. Most classes can fit into most missions, but these ones will have an easier time of it thanks to their typical abilities, skills and domains.
Intro. Use this section to guide the players into the story. There will often be questions for the players, generally around how they arrived in (or infiltrated) the mission area. This is intentional, as it gets right to the interesting bit.
Non-Player Characters (NPCs). A list of NPCs for the GM to use as they wish. Some of these will be vital to the plot (if you've been sent to rescue or kill someone, they'll be here); others are up to you. As with all the scenarios we write for Spire, we've intentionally given you slightly too many to choose from so you can mix and match for the best experience.
Suggested scenes. Events involving the NPCs that explore their characters or advance the plot. Some of these are written in order and others are a spread of ideas to be accessed as you wish. Keep a note of these as you play and use them where appropriate – for example, if the players seem directionless, you want to introduce a new character or if you need to amp up the pace.
Locations. Every situation in these missions takes place within a defined location. This doesn't have much of a mechanical effect, but should help to focus the players and maintain the game's pacing by making their position in the world as clear as possible.
Props. Props (or approaches) are small, often throwaway details that can give the players a means of influencing the story or just doing something cool.
Twist. Each of the scenarios has a defined twist that you can reveal towards the end of the session (or the middle, depending on the adventure). If you'd like to run a scenario more than once, you can get a lot of mileage out of it (and keep it interesting for yourself) by changing the twist to something else.
Reward. If you're using the mission as part of an ongoing campaign, this section has some ideas for what you can give to the player characters in exchange for completing their objectives (in addition to normal advances).
A NEW WAY OF RUNNING ONE-SHOTS
Maybe it's not entirely "new;" makes for a more interesting headline, though. Basically – you write down the locations on index cards, and then the props and NPCs on other index cards, and arrange them appropriately. Here's a picture of LIFE AND SOUL laid out in such a fashion: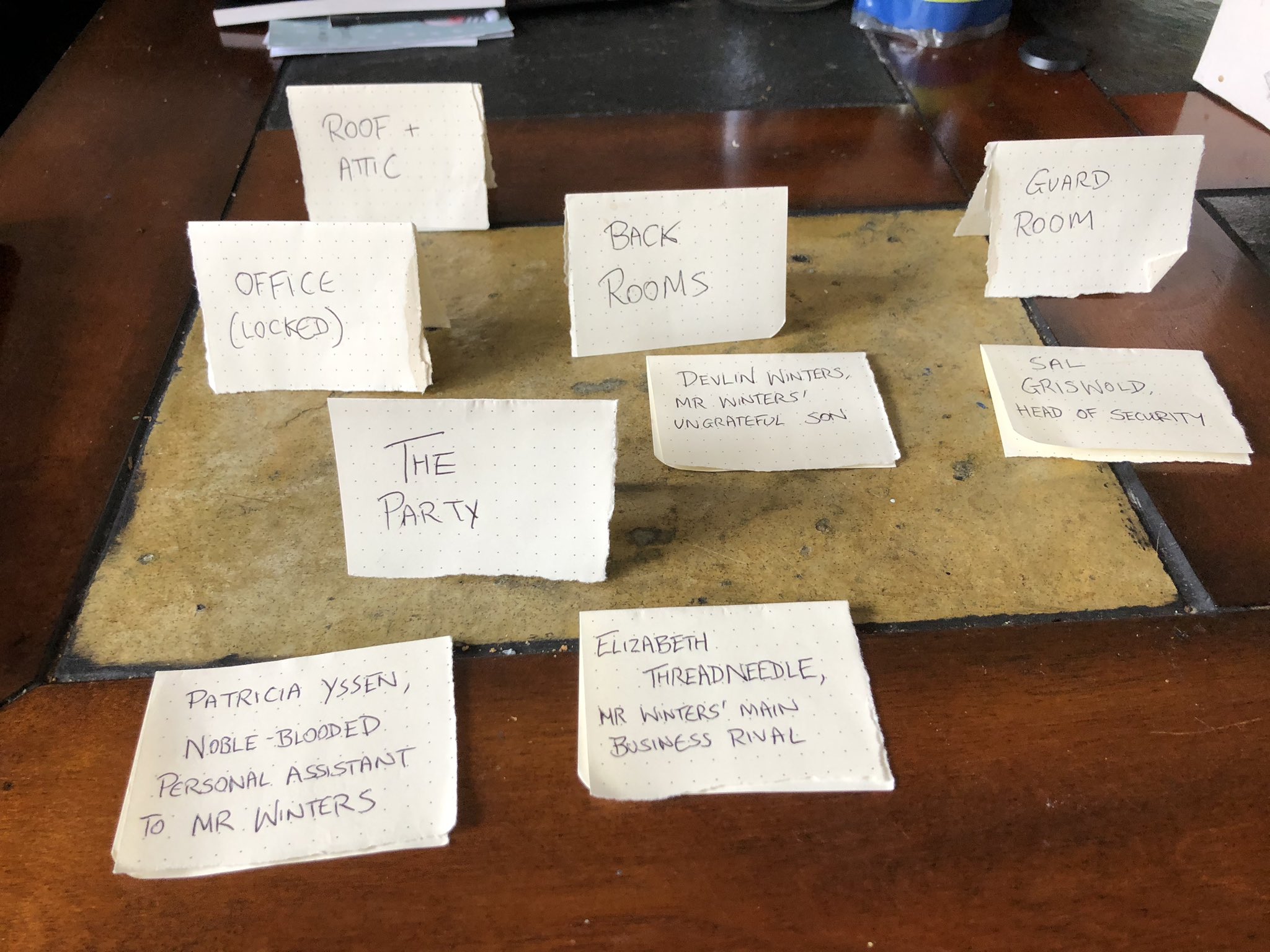 If there's any hidden props or NPCs, you can slip those inside the locations, and reveal them when the player characters investigate. (Seeing as we're all trapped indoors for gaming at present, this should all work online on your gaming platform of choice, too.) You conceal as little information as possible from the players because you've got maybe three hours to play out an entire story – so it's not worth messing around.
What's more, we've consolidated down our NPCs into Iconics – broad types such as The Queen, The Fool, The Monster and The Rising Star – that have their stats outlined at the start of the book. This allows us to save space, and allows you to quickly find the rules for an emergency NPC from a short list.
WHEN'S IT OUT?
SHADOW OPERATIONS is written and illustrated, and it's in the final stages of layout now. We're planning on releasing the PDF within the next month or so, and on printing the physical book alongside the Heart supplements (June, or thereabouts). The PDF will be £5 and the softback – with a free PDF included as standard – will be £12 (tbc).
If you've backed Heart and you'd like to get a physical copy of Shadow Operations at the same time as your Heart books to save on shipping, we should be able to sort you out. Send an email to admin@rowanrookanddecard.com and we'll have a chat.
Otherwise, if you're interested in picking up a copy, you can subscribe to our mailing list and we'll let you know when it's out!