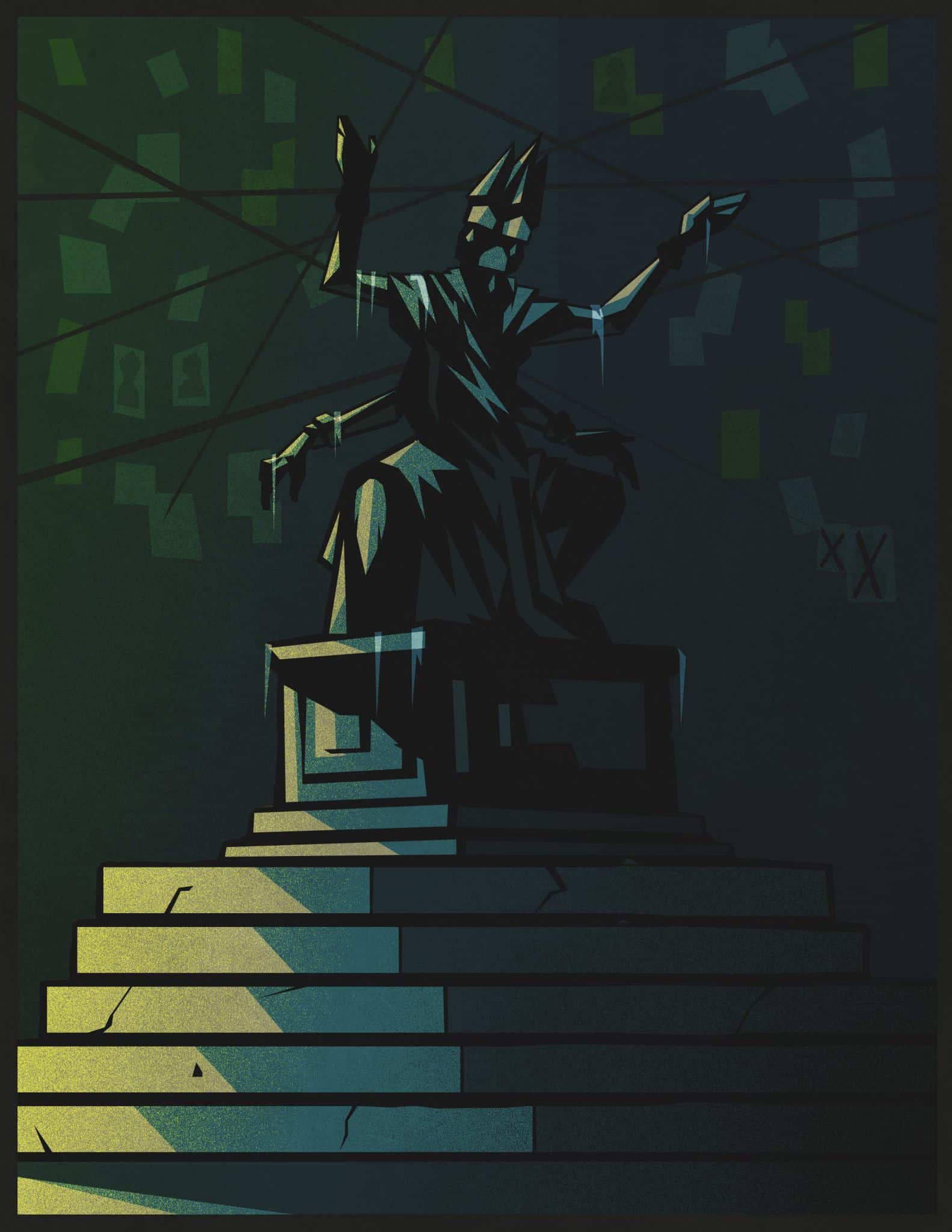 EDIT – This call has now closed. Thanks for all your pitches!
When we started making Spire, we didn't know what we were getting ourselves into. As the project has reached completion, we've been blown away by the enthusiasm and support of our players and readers – and we think we might need your assistance to give them what they want.
Spire is big. Bigger than we can handle ourselves. There are a million nooks and crannies to explore within the towering nightmare city, a million stories waiting to be told, and we want you to help.
WRITE FOR US!
What ideas do you have, when you flick through Spire? What stories do you want to help people tell? What weird twists and unexpected secrets have you hidden in your version of the city?
Take a look at our pay-what-you-want adventures: Blood and Dust, Eidolon Sky, and Kings of Silver. They're an example of what we like when it comes to adventure design – lots of setup, lots of player choice, and very little in the way of scripting player actions. (Also: they're not too long.) We like to think in terms of characters and motivations; of neat scenes that the GM can slip into the story wherever is appropriate; of giving the players difficult choices and no clear right answer. The adventures take the established locations within Spire and introduce a new element to them, then explore how that changes the already shaky status quo in the city.
It doesn't matter whether you're an established RPG author with reams of material under their belt or if this is your first stab at writing something for publication. We're interested in hearing from you if you've got stories to tell in our world; especially if you're part of a culture that doesn't see much representation in the RPG industry.
Also, don't worry about "getting it right" with regards to canon – we work in very broad strokes, and what's true and what's not in the world of Spire is a concept with a lot of wiggle room. As long as you have a broad understanding of the themes and concepts within our world, you should be fine – this isn't a test to see whether you've memorised everything we've written and can regurgitate it back to us, but rather an exercise in seeing if you can use our words as a springboard to reach something better.
WHAT WE WANT
Original, punchy scenarios and campaign frames that give the GM agency to tell their own stories

Well-written, engaging words that spark the imagination; we're proud of the standard of writing in Spire, and we want to continue the tradition

New extra advances, equipment and enemies that tie into your scenarios

New rules, descriptions and story hooks for

things

we haven't covered in great detail – like the stuff we did in Black Magic

Interesting takes on well-worn fantasy tropes

Additional details, locations and characters for Spire
WHAT WE DON'T WANT
Scenarios set outside of Spire (that is, in Nujab, or the Eastern Kingdoms, or the Home Nations, or in an entirely different world etc; you can set stuff

on

the outside of Spire)

New classes

Huge mega-campaigns that require the player characters to act in certain ways to further the plot (write a novel instead, get it out of your system, then come back to us)

The big secret metaplot behind the universe (there isn't one)

Brand new big secret organisations that mess with the world behind the scenes (we've got enough of those, use one of the existing ones)

Lists of unconnected weapons and monsters
WHAT WE CAN OFFER YOU
CASH. We pay our writers.
EDITING. All your work will be edited by us, and either fed back to you for improvement or published once we've made changes. Which means: your work will be better, which is good.
MECHANICS. If you aren't comfortable writing mechanics for our system, we can do that – just tell us what you need the mechanics to do and we can fill in the blanks if we're capable. If you are comfortable, take a go at writing it, and we can make sure that it lines up with the rest of the world.
YOUR NAME IN LIGHTS. Well, your name in print, or PDF, at least. But: you'll be credited for everything you do. If you write something, it's important that people know you did it.
THE NEXT STEP
Send a pitch to admin@rowanrookanddecard.com – no more than a hundred words or so – which outlines what part of Spire you'd like to explore, and what kind of scenario you're interested in setting up there. What are the players tasked with doing? What opposition stands in their way? Imagine you're describing it to a group of prospective players and you want to share your excitement with them.
Also, send over examples of, or links to examples of, other work that you've done. If you don't have a portfolio, send us a link to your blog, or some other place that you store your words. (If you don't have any examples of your writing to make available to us… well, wow us with the pitch, and we'll talk.)
If we like it, and we think that the concept has the capacity to be turned into something special, we'll be in touch.