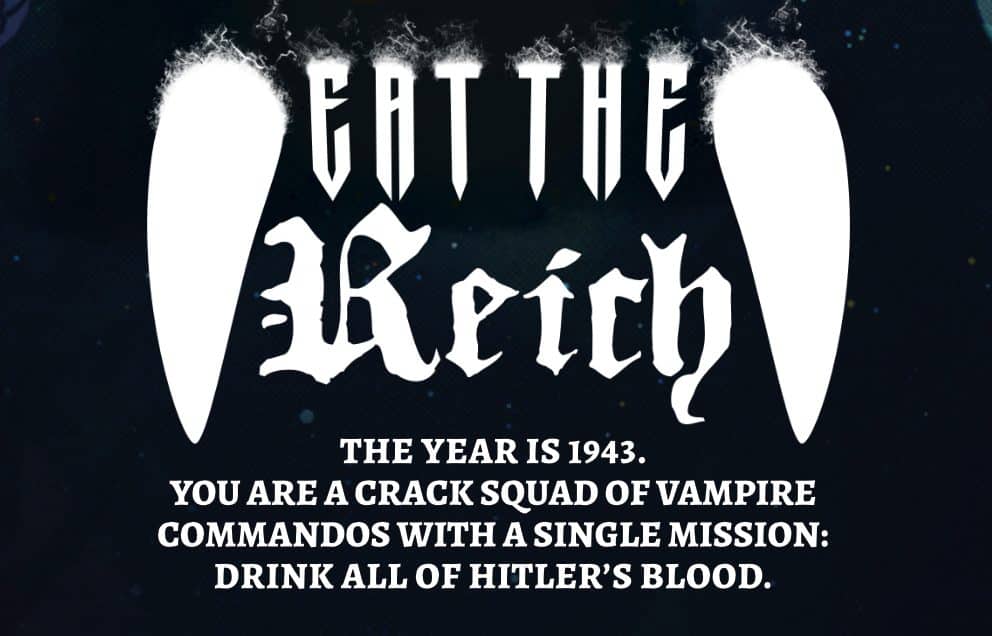 EAT THE REICH is an upcoming over-the-top action game in which you, a gang of ghouls, revenants, necromancers and cryptids are coffin-dropped into the streets of occupied Paris to kill Hitler and fatally destabilise the nazi war machine.
Written by Grant Howitt (Spire, Heart, Honey Heist, Havoc Brigade, One Last Job) and illustrated by Will Kirkby (Image, BOOM, Dark Horse, Critical Role), EAT THE REICH is a fast-burn game filled with explosive action, meaningful flashbacks, illegal blood magic and hundreds upon hundreds of extremely dead fascists.
EAT THE REICH is coming to Kickstarter in July. Before then, we're intending to get the book entirely finished, so when we collect the funding from the campaign we'll be able to get the final product into your hands as soon as possible. The text's written and the art is all done. We have one very good idea here and we don't want to slow the whole thing down by adding too many complex extras. (There will be some add-ons and stretch goals, but our aim is not to let them affect delivery or printing of the core book.)
You can follow the campaign at our Kickstarter preview page to be informed as soon as it goes live.